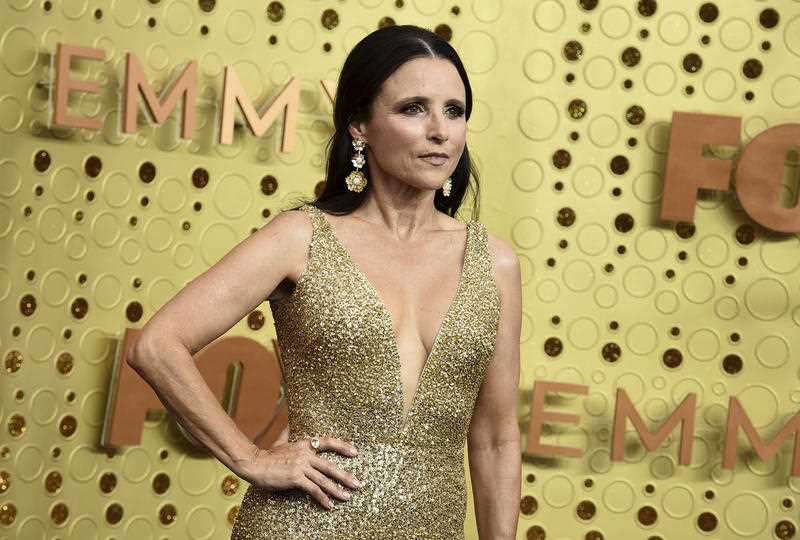 Julia Louis-Dreyfus arrives at the 71st Primetime Emmy Awards (Photo by Jordan Strauss/Invision/AP)
Julia Louis-Dreyfus stunned in classic Hollywood gold, Zendaya donned an emerald silk gown with a provocative corset top and Kerry Washington went for sparkly black tuxedo pants on the Emmy Awards' purple carpet, where pink-and-red combination looks and glittery chokers were plentiful.
.@Zendaya wears custom @VeraWanggang to the 71st Annual #Emmys red carpet: https://t.co/F5prJb1JNH pic.twitter.com/fc3XIaPCQK

— Vogue Runway (@VogueRunway) September 23, 2019

"The biggest trend of the night was red and pink dresses," said Andrea Lavinthal, People's style and beauty director.
"Mandy Moore's custom Brandon Maxwell led the pack. Her voluminous hair and dazzling diamond earrings added to the glamorous effect."
Mandy Moore has never looked more beautiful.

That's it. That's the tweet #Emmys pic.twitter.com/7CyvITjOde

— Cole Delbyck (@coledelbyck) September 22, 2019

MJ Rodriguez had a ball in a magenta gown and Jodie Comer of "Killing Eve" wore sleek white, while Gwendoline Christie took her "Game of Thrones" mantle to the extreme in a medieval red cape and lion head metal medallions from Gucci Cruise 2020.
Mj Rodriguez at the 2019 #Emmys 💕 pic.twitter.com/PWA1AL0l8M

— MEFeater Magazine (@mefeater) September 22, 2019

Jodie Comer is Killing The Purple Carpet and Eve (new Series, only on BBC America, coming soon, probably). #Emmys2019 pic.twitter.com/cPsFASTOIi

— Entertainment Tonight (@etnow) September 22, 2019

All hail. #GameOfThrones star Gwendoline Christie (@lovegwendoline) has hit the #Emmys2019 purple carpet. Watch the live stream: https://t.co/8v1KaQIFkc pic.twitter.com/EnZjTDDXly

— Hollywood Reporter (@THR) September 22, 2019

Sandra Oh went for pink, posing with her hair in high curls, dressed in an off-shoulder gown.
Shut. it. down. Sandra Oh. 😊 https://t.co/joIcmzkm19 #Emmys2019 pic.twitter.com/1xE7qhQZfk

— The Cut (@TheCut) September 22, 2019\

Louis-Dreyfus finished off her look with long statement floral earrings, while Washington opted for high-waisted trousers and a ruffle tuxedo blouse with the collar popped and a few buttons adventurously undone.
Michelle Williams, a brand ambassador for Louis Vuitton, wore a custom embroidered gown from the brand.
Michelle Williams looks drop dead gorgeous at tonight's #Emmys2019! https://t.co/qPlT8Nij69 pic.twitter.com/a8pMEXyjVY

— TooFab (@TooFab) September 22, 2019

Kendall Jenner, who presented on stage with sister Kim Kardashian West, had the internet talking about her Richard Quinn dress and "how she managed to wear Latex without breaking a sweat in the heat," Lavinthal said.
Kendall Jenner at the Emmys in LA Sep. 22, 2019. pic.twitter.com/RFzMFnjcva

— kendallnicole.style (@KendallNStyle) September 23, 2019

Billy Porter, meanwhile, made his typical carpet statement in a lopsided cowboy hat - one side was huge and the other not. His suit was in sparkling silver and black stripes was from Michael Kors.
Billy Porter at the 2019 #Emmys 🖤 pic.twitter.com/CAzDdCobMc

— MEFeater Magazine (@mefeater) September 23, 2019

Comer, who plays the assassin Villanelle, enjoyed the best of two fashion worlds. Her gown was both a halter, with a plunging neckline and high-waist tie belt, and long-sleeve with a jacket effect that skimmed the ground, courtesy of Tom Ford.
Zendaya's custom, one-shoulder asymmetric gown with a dramatic slit was Vera Wang Collection.
As for the guys, Chris Sullivan didn't disappoint in a plaid tuxedo with wide white lapels.
#ChrisSullivan makes a fashionable appearance at the #Emmys2019 beside his wife Rachel, plus more couples heating up the purple carpet https://t.co/ezdrl87KQT pic.twitter.com/b6KYo29ULM

— ET Canada (@ETCanada) September 22, 2019

© AP 2019