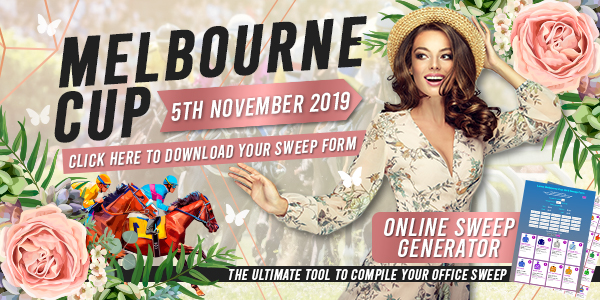 Download your own Melbourne Cup sweep form here!
If you're planning on hosting a Melbourne Cup party at home or in the office, then our Melbourne Cup online sweep is just what's called for to celebrate. An online office sweep makes it all super easy and pairs perfectly with a glass of bubbles.
If you don't know where to start, this is the perfect place.
What is a sweep?
It's basically a lucky draw competition, the names of every horse racing in the Melbourne Cup will be divided out at random to anyone who participates. Entrants will chip in with a small payment which goes towards the prize for first, second, third and lucky last place, who gets a consolation prize. Don't let people get into the idea of picking their horses! The horses going to random entrants means everyone gets a fair shot.
How many horses are there in the Melbourne Cup? How many people do I need to run a sweep?
There are 24 horses in the Melbourne Cup, but you can run a sweep for any number of people. Doubling up on a horse or having multiple horses per entrant makes it possible to run a sweep for any number of people.
Steps for running a Melbourne Cup office sweep online
First figure out who wants to join in, then simply select the dropdown labelled 'Number of Entries' and choose the number closest to the number of people who want to play. Try to pick a number slightly higher than your number of participants, that way some people can buy two entries. You can also pick a number lower, you'll just have to get a few people into teams to share entries.
Pick a price, most office sweeps would likely keep to a gold coin or small note for the price, if only to make it easy to handle the cash! The formula will then automatically show you the prizes for First, Second, Third and lucky Last.
Collect the cash and enter the names of everyone into the provided fields, if you have an odd number of entrants, just let people buy an additional entry, or team up for one entry until you have all the fields filled out. Make sure to mark people going in multiple times with a number - John S 1, John S 2, etc.
Press the Draw button! Now everyone on there will be assigned a random horse.
The Print button will print out a handy sheet for keeping track of who has what that you can set on a desk or up high for everyone to see.
Get ready for the race and good luck! When it's all over don't forget to divide out the prizes!
You may like to get ready in advance, download your Melbourne cup sweeps template above.