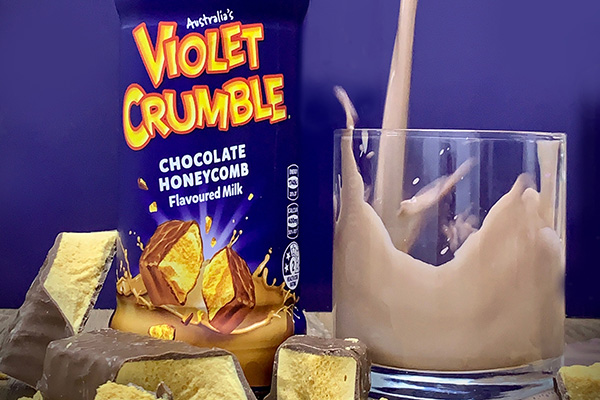 A photo of a new Violet Crumble Milk was leaked back in August and we can now confirm it's real and coming to a store near you!
Fans went into a frenzy last month when the photo was leaked and asked when and where it would be available.
Two iconic Australian brands, Robern Menz and Bickford's have joined forces and have created the ultimate flavoured milk, the Violet Crumble Chocolate Honeycomb Flavoured Milk which will hit shelves nationally on the 1st of October.
Phil Sims, CEO of Robern Menz says in a media release:
"It may have been 107 years in the making, but it's better late than never."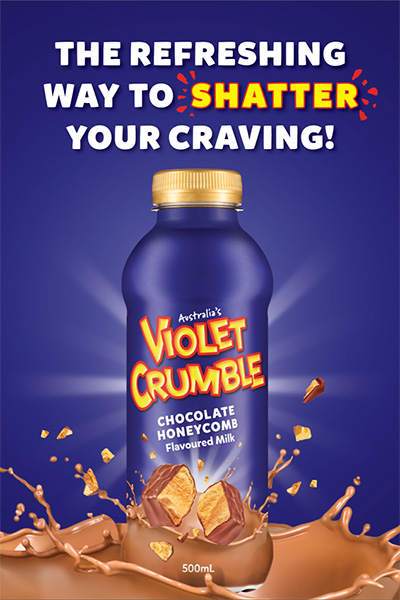 In research commissioned by Violet Crumble, it was revealed one in three Aussies have been waiting for a drink just like this. Sims says:
"There's almost nothing more Australian than flavoured milk as we've all grown up with it, so we had to give Aussies what they want. Chocolate and honeycomb splattering together with milk just makes sense.
Violet Crumble's have been an Australian icon, first produced in 1913 and although it's been over 100 years in the making, it's better late than never as Sims explains:
"We don't have any excuses for being late to the game, but we can say it's definitely been worth the wait!"
In the media release, Violet Crumble revealed what excuses men and women had for being late:
Men, more than women, said their excuse for running late was because 'it takes time to look this great'
49% of men are sleeping in more and more 'forgetful', whereas 67% of women are blaming traffic and roadworks
Men also use the excuses more than women of 'being busy sitting on the bed looking at a wall', instead of getting ready to be on time
Men are more likely to get stuck at the servo than women
The Violet Crumble Chocolate Honeycomb Flavoured Milk will be available for a RRP of $4.50 from the 1st of October at Coles Express and Caltex nationally, as well as Independent Supermarkets.
(Images: Supplied)