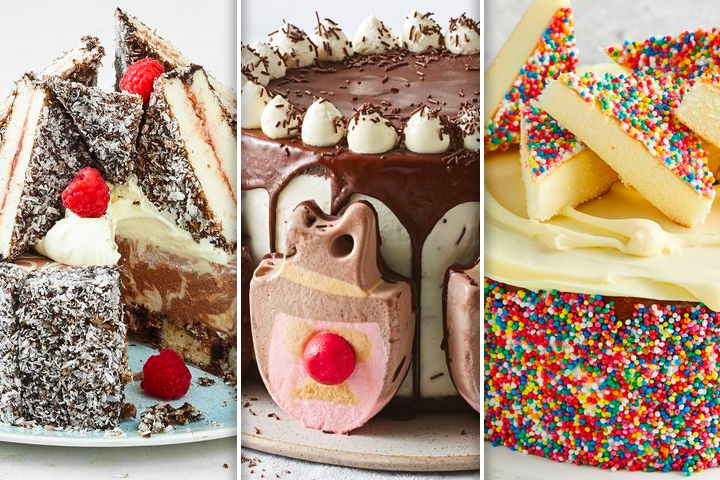 For all the sweet tooths, this article is for you! Be sure to impress at the dinner table with these iconic Aussie cakes.
The taste.com.au team have been busy creating iconic Aussie cake recipes and here are three that we've found that you MUST try!
---
Bubble O' Bill Ice-cream Cake
This delicious Bubble O' Bill ice-cream cake recently went viral. The popular cake apparently took 12 months to develop with multiple versions of the cake being tested before the final product. The ice-cream cake is surrounded by 8 Bubble O' Bill ice-creams! 😋
The best thing about this recipe is that there's no baking involved. You just need to assemble and freeze. What will you need?
• 250g packet Arnott's Choc Ripple biscuits • 75g solid coconut oil • 4l tub vanilla ice-cream, softened slightly • 1/4 cup chocolate sprinkles, plus extra, to decorate • 150g dark chocolate, chopped • 8 Bubble O'Bill ice-creams, sticks removed • 150ml thickened cream, whipped.
See the full recipe here.
---
Lamington Cheesecake
The second iconic cake is made from another Australian classic, Lamingtons!
It's a creamy coconut cheesecake with a lamington finger base and also doesn't need baking. Simply line the cake with lamington fingers, fill the centre with the cheesecake mixture and leave to set.
Check out the full recipe here.
---
Giant Fairy Bread Ice-Cream Cake
The last cake is one for the kids or the kids at heart. It's your childhood dreams come true! This giant fairy bread cake is topped with a white chocolate ganache, with, of course, LOTS of sprinkles.
Find the full recipe here.
---
Image and Recipe Credits: (taste.com.au)