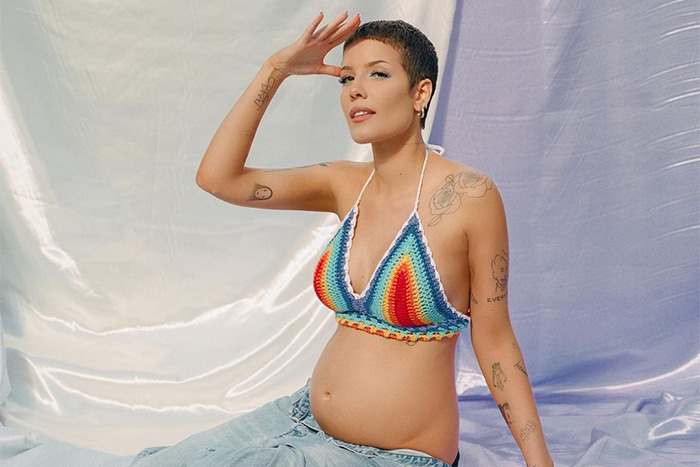 American singer Halsey has surprised fans with some wonderful news, taking to social media to reveal she's expecting her first child.
The 'Without Me' singer shared a beautiful series of photos, with the caption "surprise! 🍼🌈👼🏻." In the photo set taken by Sam Dameshek, she poses in light blue denim jeans revealing her growing baby bump on a backdrop of white and purple silk.
The post on Instagram currently has over five million likes and although she hasn't officially confirmed the father of the baby, she tagged screenwriter and producer, Alev Aydin.
The pair have remained low key, with the two only being photographed in public once. The couple was photographed shopping for art supplies in LA back in October of 2020.
Alev shared Halsey's pregnancy post on his Instagram story and commented on her post saying "Heart so full, I love you, sweetness ❤️❤️." Halsey replied with "I love you!!!!!! And I love this mini human already!"
In June, during a trip to Joshua Tree, the pair even got matching tattoos.
The couple visited Liquid Tattoo in Yucca Valley on Father's Day last year to get the tattoos, which they wrote out for each other.

"They probably practiced writing it about a hundred times before they found the right one," Amanda Owley (amanda_owley_tattoo on Instagram) told me pic.twitter.com/E4fwI7HAic

— Tomás Mier (@Tomas_Mier) January 28, 2021
The 26-year-old was diagnosed with endometriosis in 2016 and has shared her struggles with the condition, even revealing she suffered a miscarriage whilst on tour and performed a few hours later.
Talking about the experience, she said back in 2018, "I was on tour, and I found out I was pregnant. Before I could really figure out what that meant to me and what that meant for my future ... the next thing I knew I was on stage miscarrying in the middle of my concert."
If any of my fans or followers have #endometriosis 💛 having a rough time today. laying in bed thinking of you. pic.twitter.com/LOQVn5BsSg

— h (@halsey) January 29, 2016
On Twitter, she posted "my rainbow 🌈", a reference to the term 'rainbow baby' which is a baby born after having a miscarriage or stillborn.
Halsey
has released three studio albums, '
Badlands
', '
Hopeless Fountain Kingdom
', and most recently
'Manic', all of which have reached number two on the ARIA charts. Her songs 'Eastside' and 'Without Me' have hit number two on the Australian singles charts, and her most popular song 'Closer' with The Chainsmokers has gone 16x Platinum reaching the top of the ARIA charts back in 2016 and also gaining a massive 2.6 billion views on Youtube.
Feature Image Credit: (@iamhalsey / Instagram)