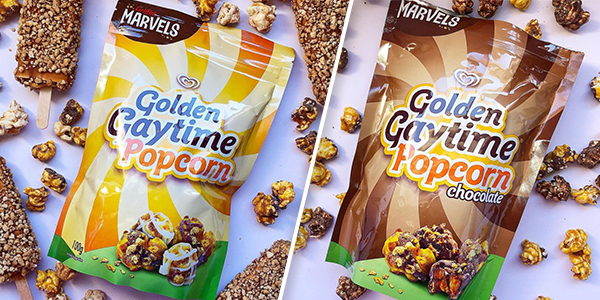 Take All My Money Now! Golden Gaytime Popcorn Is About to Hit Shelves (@foodfindsgeelong Instagram)
Ok seriously guys RUN, don't walk or you will miss out! This is pretty much the news we have been waiting for...
Golden Gaytime Popcorn is now a thing and has been spotted on Supermarket shelves ahead of its official launch.
Instagram account @foodfindsgeelong spotted the Golden Gaytime Popcorn instore and posted to social media to share the news.
In what is one of the best food cross overs, Streets are bringing a twist to the iconic ice cream but adding it to everyone's favourite carb popcorn.
The sweet treat will be available in 100gram bags of pure deliciousness in two flavours Original Toffee and Chocolate - both of which see popcorn covered in the classic vanilla biscuit crumb.
A description of the new treat read, "a popped time is a Gaytime! Golden Gaytime Popcorn - the iconic combination of Gaytime vanilla biscuit crumbs and toffee you love, now in irresistibly morsels of popcorn."
Golden Gaytime Popcorn is available at your local Coles Supermarket now, with an official launch happening on Monday, February 15.