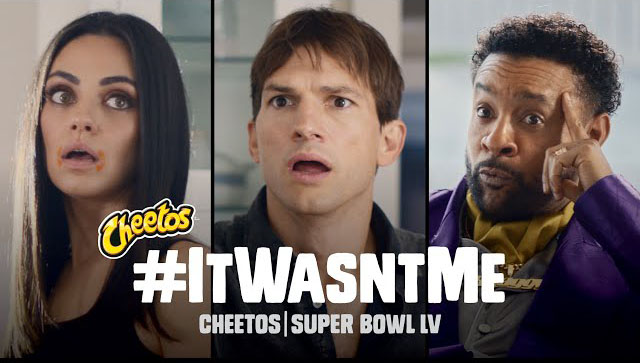 It's Super Bowl time in America again, and that means a fresh crop of clever commercials to make us laugh while forgetting we're being advertised to.
The ads are a phenomenon in their own right. You don't even have to be a sports fan to enjoy them - indeed, many people watch the game just for the ads!
Mostly we love the ads for the celebrity appearances - but this year has some poignant ones that aim to make us feel better after the terrible 2020 we all had (and that America is still having).
Some brands are shelling out more than $5 million for a 30 second spot this year and some ads go for a full minute! So let's get watching and see how well their money was spent.
We've highlighted our favourites. Which ones do you like?
THE CELEBRITIES
Dan Levy
Ashton Kutcher, Mila Kunis and Shaggy
Matthew McConaughey
Maya Rudolph
Will Ferrell, Kenan Thompson, and Awkwafina
John Cena
Jason Alexander

THE COVID INSPIRED ONES
Budweiser's lemon of a year
Ford wants America to #FinishStrong
Bass Pro Shops and Cabela remind us that the challenges will pass

THE FEEL GOOD ONES
Toyota and Paralympic swimmer Jessica Long
Stealla Artois and the heartbeat billionaires (featuring Lenny Kravitz)
Chipotle asks if a Burrito can change the world?
Anheuser-Busch wants us to grab a beer

AND THE FUN, FUNNY AND DIFFERENT
Squarespace flips Dolly Parton
Alexa's new look
Pringles strands the astronauts
Dr Squatch defines a real man
TurboTax explains some weird tax loopholes
Vroom.com channels our stress in visiting car dealerships
Or this one that they are saying WINs the Super Bowl this year!
Which ad was your favourite?