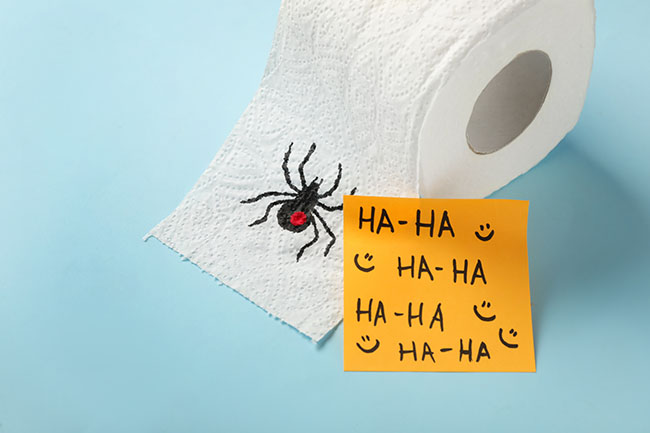 It's that time of the year again when pranks abound. If you're looking for some last-minute inspiration, here are some ideas that aren't too intense and should hopefully get you forgiven pretty quickly.
1. Wet pants
2. Head in a jar
You'll never open the fridge in the dark again!
3. Drink spill
This one requires a bit of setup and you might get asked to do the cleanup!
4. Onion lollipop
Make sure you're there to see their reaction!
5. Broken toilet
6. Spidery toilet surprise
If you don't have a plastic spider on hand, this prank is for you. Unroll the toilet paper roll a few sheets, draw a small spider, then carefully roll it back up. Wait for the screams - and the acoustics in the bathroom should make it be heard all through the house!
7. Spider in a drink
Grab a plastic spider and secretly pop it into your target's drink when they're not looking. Wait for them to see it (if the liquid's see-through) or maybe they'll feel it when they get towards the end of their drink.
8. Breaking news!
If there's one prank that keeps living on - and not just for April Fool's Day - it's the one involving Rick Astley. Simply send your friend a text message saying that something really big is going on outside your house or workplace, "it's crazy, you gotta see this" etc. Really sell the must-see nature of it. Then send them this "Breaking News" link.
When they open it, instead of getting the news, they'll have Rick Astley singing "Never Gonna Give You Up" and they'll hopefully have a laugh when they realise they've been Rickrolled! Classic!
9. Broken TV
The newer and more expensive the TV, the better this will be!
10. Balloon popping
Sometimes the prank can just be silly, like scaring someone over and over and over again
11. Touch screen TV
Tell your prankee you've got a new TV that is touch screen and let them play with it, all the while secretly navigating with the remote control.
12. Electric shock
This one is be a bit cruel, so we're including it as a warning that your prankee may not always see the funny side, so choose your pranks carefully!
And we couldn't resist this bonus one - it's not a real prank, but it's super cute!
Do you have any favourite pranks?
Main image by New Africa/Shutterstock.com