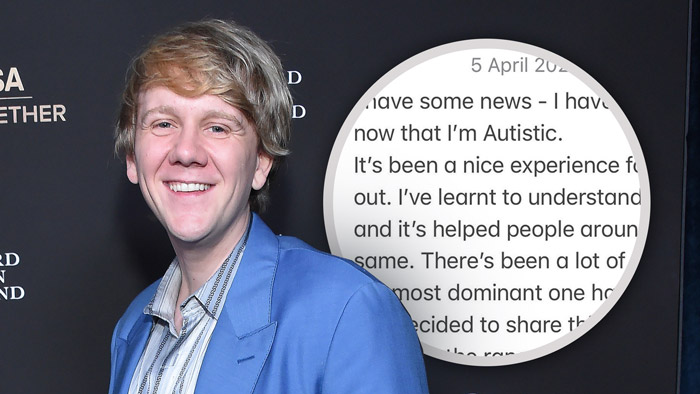 Aussie Comedian Josh Thomas has revealed that he's autistic in a touching post on social media, saying:
I have some news - I have known for a while now that I'm Autistic.
The 33-year-old shared a post saying that it's been a nice experience figuring it out with lots of emotions but he's found it relieving. The rest of the post, captioned, "Not literal hugs, though. Please. I really don't like them. X", reads:
"It's been a nice experience for me, figuring it out. I've learnt to understand better and it's helped people around me do the same. There's been a lot of emotions but the most dominant one has been relief.

I've decided to share this with everyone because the range of Autistic people and characters we see in the media is very slim, when the autism spectrum is huge and varied. So here I am, another version of an Autistic person for people to see. Hopefully this helps further coloraturas in, and add texture to societies idea of what an Autistic person is.

Thanks! Hugs! - Josh Thomas"
After his successful television series 'Please Like Me' finished, (which was nominated for an International Emmy Award for Best Comedy Series and won an AACTA Award for Best Television Screenplay), the writer and actor created his latest American sitcom, 'Everything's Gonna Be Okay', which is about autism. Thomas announced in February, a second season for April 8th, 2021.
In an article by The New Yorker it's revealed as Thomas was writing the story for 'Everything's Gonna Be Okay', which is based around a character, Matilda, who has autism, Thomas began to wonder if there was more to his interest in autism.
Thomas, who plays Matilda's brother, Nicholas in the series says fans questioned if his character also had autism.
This revelation caused Thomas to consult a psychiatrist but he was unable to during lockdown. He reveals that he turned to self-assessments on the internet to explore if his character did indeed have autism but along the way he discovered he related to his character, questioning if he himself had autism.
In the article, it's explained he talked to an autism consultant and said:
"When you watch the show, do you think maybe Nicholas is autistic?" he asked.

Carefully, she responded, "Yeah—I think there's probably something there."

"Do you think I'm autistic?"

She paused, then said, "I'll help you get an evaluation."
The article reveals that in September, a clinical psychologist had confirmed that Thomas was on the autism spectrum.
For more information on Autism, you can visit the following links:
Autism Spectrum Australia (Aspect)
Image Credit: (DFree / Shutterstock.com | @joshthomas87 / Instagram)