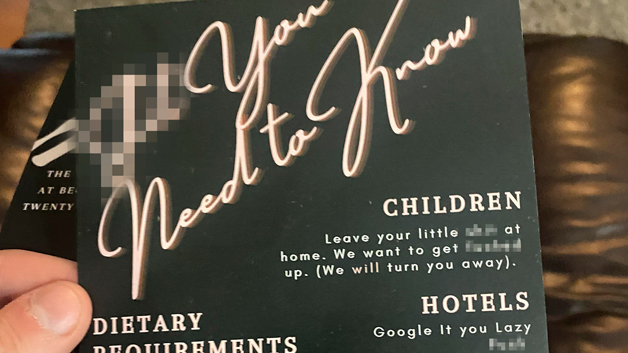 A cousin of a couple who received an invite to their wedding has shared the card in question to Reddit which has since gone viral for the colourful and blunt language used.
The card which has been called 'tacky' and 'trashy' calls guests fat and lazy and tells them to leave their children at home or they'll be turned away.
Reddit user ScaredNapkin posted the photo to the 'Wedding Shaming' thread where it has received almost 2K comments. They wrote:
"My cousin sent this along with her wedding invitations… I will not be in attendance."
---
Warning if you keep reading, as the language is quite vulgar!
---
Firstly, the top of the card reads, "**** You Need to Know" with a set of instructions that are quite blunt.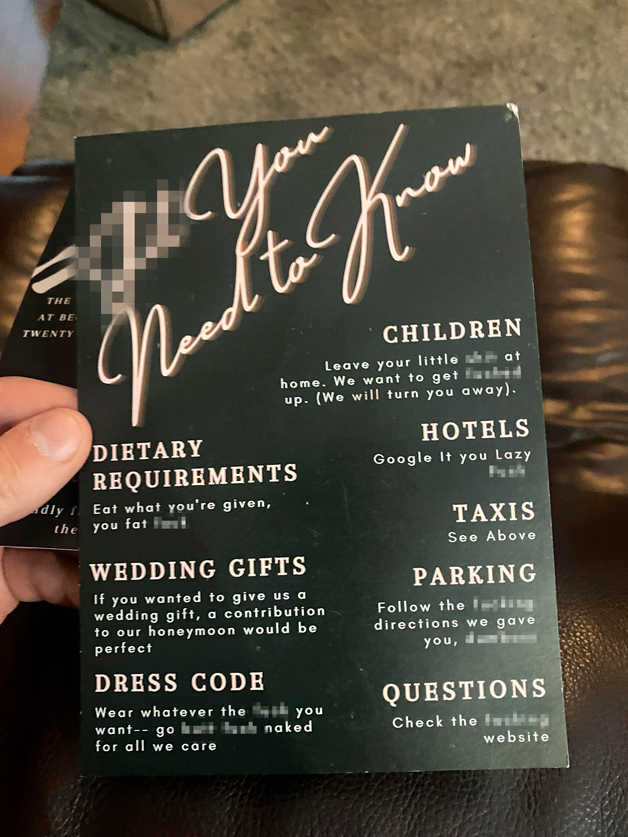 Image Credit: (www.reddit.com/user/ScaredNapkin/)
Dietary Requirements
"Eat what you're given you fat ****."
Wedding Gifts
If you wanted to give us a wedding gift, a contribution to our honeymoon would be perfect
Dress Code
Wear whatever the **** you want — go b*** **** naked for all we care
Children
Leave your little **** at home. We want to get ****** up. (We will turn you away)
Hotels
Google It you Lazy ****
Taxis
See Above
Parking
Follow the ******* directions we gave you, *******
Questions
Check the ******* website
---
Reddit users quickly flocked to the comments section, one writing, "That's one aggressive invitation."
Another questioned the tone of language used, saying they are okay with swearing but the language should be more inviting. They wrote:
"I am a vigorous swear word user and defender of their use, because they serve a specific and valuable purpose – to put people off. Not the tone you want on a wedding invitation. I'd think you'd want that to be more... inviting?"
More users tried to understand the funny side of the invite but still weren't impressed. One thought it was cringy and they were trying too hard to be cool. They said:
"So much cringe. Trying far too hard to be cool."
Others thought the invite came across mean spirited and wrote:
"I get it's supposed to be a tongue-in-cheek kinda joke.. but my god tone is important! "Check your child at the door" or "you know we get good food, dont worry about it" would be kinda funny. This is just mean spirited"
I get trying to be funny but this is a bit over the top and much. I honestly wouldnt want to go if i got this.
When asked if the wedding card was sent to only amongst friends and not everyone, the original poster said it was sent to everyone. They asked:
So did everyone get this? Like extended family and elderly family members??? If it's just amongst friends then okay I guess, but if it got sent out to everyone then... Cringe
The original poster then responded with:
"As far as I know this is the invite they sent to everyone"
---
---
Image Credit: (www.reddit.com/user/ScaredNapkin/)