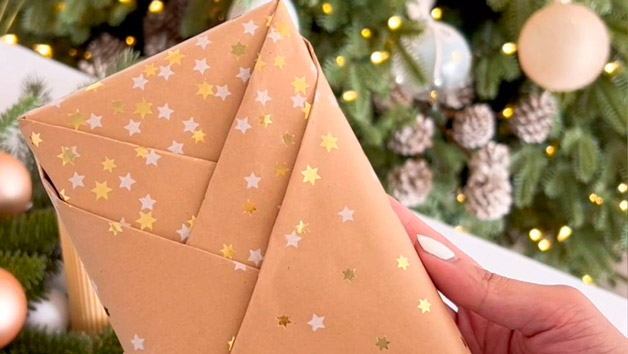 Christmas is around the corner and some of us may struggle with making gift wrapping exciting. This easy way of wrapping presents has gone viral and may inspire you to take your gift wrapping to the next level!
Made popular again recently by Chantel Mila, her video on her TikTok @mama_mila_ has gained over 1.6 million views at the time of writing with over 90K likes. The Melbourne mum of two who specialises in home tips, cleaning, styling and DIY's also shared the technique last year on TikTok which has an impressive 12.7 million views and 1.7 million likes.
In the video, Mila uses kraft coloured paper with gold and silver stars to wrap an iPhone. She starts by bringing the bottom section of the paper up horizontally, then creates triangle flaps on each side, folding them in to create several layers to create an impressive layered pattern which her followers loved.
She wrote on her Instagram: "Here's a fun + festive way to wrap your gifts this year 🎁 it looks so impressive, will make everyone smile and is surprisingly easy to do! There is also a slowed down tutorial on my YouTube (in bio) 💖 I still can't believe that my 2020 gift wrapping series reach over 20 million people around the world, and I have many more fun + easy-to-recreate gift wrapping videos planned again this year in the lead up to Christmas - let me know what you'd like to see wrapped below so I can add it to my list👇"
One person said they were obsessed, writing, "What kind of witchcraft is this? I'm obsessed!" And another said they would love to get that as a gift, "Wouldn't mind getting this gift. Ahhh the wrapping paper is so pretty."
The layers act as a perfect place to put flowers to take the gift to the next level as shown in Mila's first viral video. She has also shared a more detailed instructional video on how to recreate the look which you can follow below.
Others have also shared the same technique, proving the layered look to be popular.
Image / Video Credit: (By @mama_mila_au / Instagram)