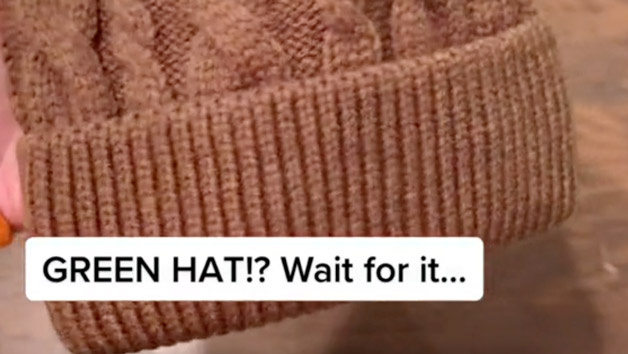 Is this the blue and black or white and gold dress all over again? A new optical illusion has the internet talking after an interior designer posted a video of her beanie which appears to be two different colours leaving the internet confused about what colour it actually is.
The interior designer posted the video on her account @oteliacarmen with the caption, "Why lighting should be just as important as color/material selections!!." In the video, she shows her "green hat" which actually appears as brown initially until she moves into another area and turns green as described.
She explains in the video that the phenomenon is called "Metamerism" in which is explained by a book by C. Hurren titled, 'Fabric Testing', as "...the colour change seen in a coloured item because of different spectral emissions from different light sources."
"Each light source has its own emission spectrum (colour) so when a light source is projected onto a surface, the surface colour is influenced by the colour of the light. This produces a different colour to the observer for the same item when the light source type is changed."
With 4 million views and over 600K likes at the time of writing, the phenomenon has caught the attention of fellow TikTok users, some relating it to the infamous dress. One user wrote, "It's the dress all over again".
Others confessed their confusion saying, "I just thought it was going to be about her being colorblind but now im just confused." More people said they didn't have time for such a brain breaker, one writing, "Just gona scroll cuz I don't have time to think right now" and, "I can't do this again pls."
Interest in the special beanie has led Otelia to create a series of videos with it and in another video she responded to a comment asking, "What does it look like outside in the sun." In the clip, she wears the beanie inside which appears brown, then walks outside and it remains brown. She explains that when she saw it in the store she thought it was green and when someone commented asking what the tag says, she replied, "No color names, tried to google the brand but this color didn't come up."
She then does a walkthrough of her house walking from room to room to see how the beanie will appear in different light settings.
Otelia goes onto explaining how the science behind the illusion works in her latest video which if you're still confused, is a must watch.
Image Credit: (@oteliacarmen / TikTok)